Overview

Knowing Technical Stuff

More Questions?
GET TO KNOW YOUR FUTURE GEAR
PC with USB port
Windows 10, 8 or 7
Selectable 1000Hz/500Hz/
250Hz/125Hz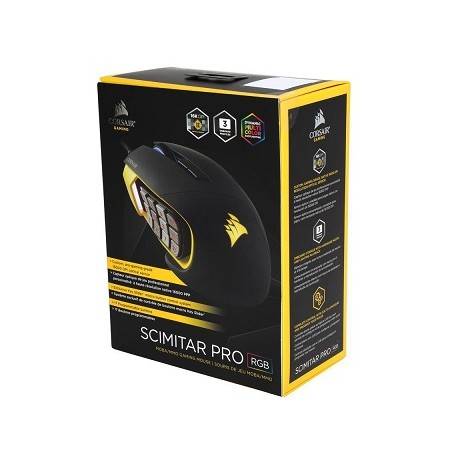 PACKAGE CONTENTS
SCIMITAR PRO RGB Optical MOBA/MMO Gaming Mouse
Key slider locking tool
Warranty card
watch CORSAIR SCIMITAR PRO VIDEO FT BAHJEERA
WHICH PARTS HAS RGB LIGHTING?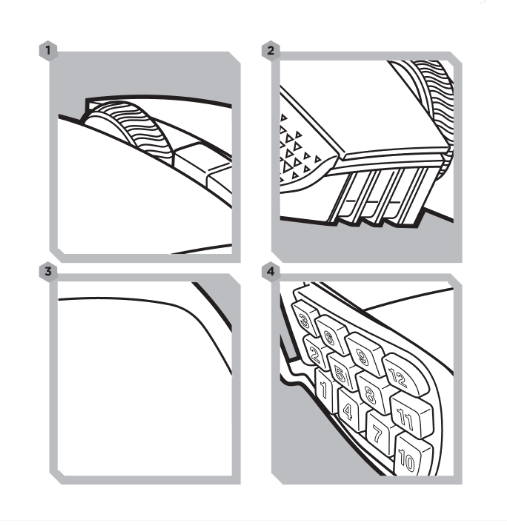 what's the difference between the Pro and non-Pro?
The Scimitar PRO RGB is basically an updated or upgraded version of its predecessor, the Scimitar RGB (non-Pro). So what's the difference between the Pro and non-Pro? The newer Pro version includes all the features of its predecessors, plus a new PMW3367 optical sensor capable of 16,000 DPI. This new optical sensor was developed in partnership with PIXART. The PMW3367 optical sensor aims to deliver precise control in single DPI steps for ultra-accurate, high-speed tracking. Another addition is the ability to store profiles on the mouse itself, and a few cosmetic changes like the surface area and the bump of the 5 key.
how do you adjust a key slider
The Key Slider can be adjusted by unlocking the hex screw located at the bottom of the mouse. A hex screwdriver is provided in case you don't have one. Simply unscrew it and the slider becomes loose. You can adjust the slider by 8mm from front to back, depending on the size of your hand or the length of your thumb.
Whatdoes an onboard profile do?
Onboard profile feature provides an ability to
execute complex actions and custom lighting without additional software required. This profile can be customized using CUE with user specific macros or key remaps as well as custom lighting effects and saved back to onboard storage. The mouse will retain all settings when connected to a different PC, even without CUE running on it.
How do i...
(1) program the keys on the key slider;
(2) change the lighting effects;
(3) adjust DPI
(4) calibrate surface and other options
Corsair offers an all-in-one utility to control and customize their gaming peripherals – the Corsair Utility Engine or CUE. With the CUE, you can set and program the keys on the key slider; change the lighting effects; adjust DPI, calibrate surface and other options.

From the Actions menu, you can set and program what each buttons on the key slider is for. There are presets, but you can also assign a function to a key. You can control the 4 zone lighting individually, or turn off one or two of the zones via the lighting menu.

Next, you can manually adjust each DPI level, including a corresponding LED color for the numbers. You can also enable or disable angle snapping, enable or disable enhance pointer precision and adjust the pointer speed. Finally the surface calibration is very handy since it will calibrate the Scimitar Pro RGB to adjust according to the type of surface that you have.
IS THERE A DIFFERENCE BETWEEN THE BLACK AND YELLOW?