Overview

Knowing Technical Stuff

More Questions?
GET TO KNOW YOUR FUTURE GEAR
Wireless up to 16hrs with standard lighting or 24hrs with backlighting off
PC with USB port
Windows 10, 8 or 7
Rechargeable Lithium-Polymer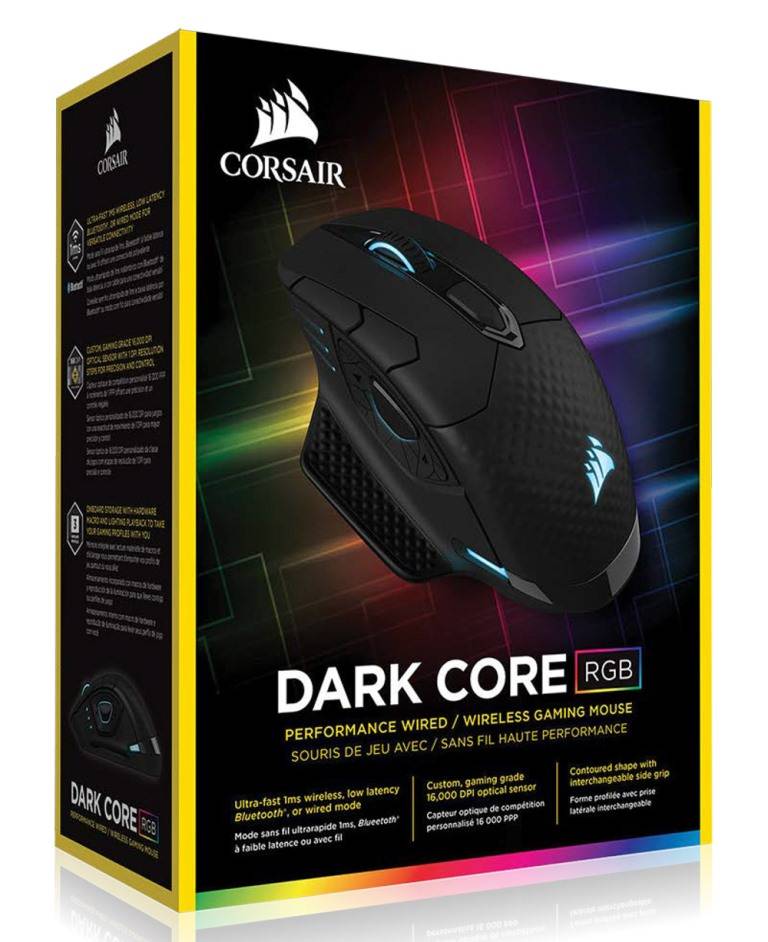 PACKAGE CONTENTS
DARK CORE RGB SE Gaming Mouse
USB charging and data cable
USB wireless transceiver
USB cable adapter
One additional side grip
Quick start guide
Warranty card
know more about corsair dark core with this video!
what's the difference between the DARK CORE AND DARK CORE SE
Features are practically the same. For the Special Edition however, Corsair has introduced the Qi charging, allowing it to charge on a charging pad.
Whatdoes an onboard profile do?
Onboard profile feature provides an ability to
execute complex actions and custom lighting without additional software required. This profile can be customized using CUE with user specific macros or key remaps as well as custom lighting effects and saved back to onboard storage. The mouse will retain all settings when connected to a different PC, even without CUE running on it.
How do i...
(1) change the lighting effects;
(2) adjust DPI
(3) calibrate surface and other optins
Corsair offers an all-in-one utility to control and customize their gaming peripherals – the Corsair Utility Engine or CUE. With the CUE, you can set and program the keys on the key slider; change the lighting effects; adjust DPI, calibrate surface and other options.

From the Actions menu, you can set and program what each buttons on the key slider is for. There are presets, but you can also assign a function to a key. You can control the 4 zone lighting individually, or turn off one or two of the zones via the lighting menu.

Next, you can manually adjust each DPI level, including a corresponding LED color for the numbers. You can also enable or disable angle snapping, enable or disable enhance pointer precision and adjust the pointer speed. Finally the surface calibration is very handy since it will calibrate the Scimitar Pro RGB to adjust according to the type of surface that you have.
IS THERE A DIFFERENCE BETWEEN THE BLACK AND YELLOW?